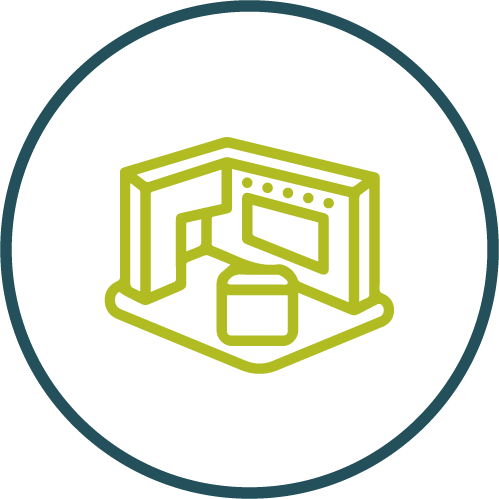 full service tradeshow and exhibit services

.
full service from start to finish
Our innovative and dynamic trade show exhibits 
don't just offer a simple cookie-cutter 
solution for your branded environment
.
We help you stand out from the competition
 and allow your audience to step into a new world. 
On the backs of 
our talented and 
punctual team of experts, we'll assist y
ou in every aspect of the journey: Consult, 
Design, Build and Manage.
No matter the in
dustry, our goal is to continue to raise the bar of the trade show exhibit standard.
onsite installation & dismantling
Trade Show Services are something you don't know you need until you need them! Innovation Exhibits provides and coordinates on-site labor, can make any emergency repairs, and coordinate last minute graphic and printing changes. At the end of the show you can worry about following your leads and rest easy knowing that your display will be professionally, safely, and securely dismantled, packed, and shipped. Contact us today for details.
refurbish, refinishing & warehousing
Your trade show investment needs to be the best reflection of your company. At Innovation Exhibits we offer display refurbishing, refinishing, and warehousing. Before your display leaves our warehouse our team will assemble it and do a thorough inspection and address any wear and tear issues that is common after large, busy shows, and transportation on freight carriers. At Innovation Exhibits we only look as good as you do!
trade-show service coordination & consulting
While trade Shows provide an excellent opportunity to put your brand in front of thousands of people it is not as simple as carrying an 8' table onto the show floor. From union halls, hired labor, material handling, outbound shipping, rigging forms it can all be a little overwhelming. Let Innovation Exhibits be your tradeshow coordinator so you can focus on what matters – generating leads and converting sales! Our team of professionals will help you determine which set up is best and even what space you should select to maximize traffic to your booth. Contact us today for details.
rental booths
Why spend thousands for a new custom booth you only use 4 or 5 times when you can rent one for a fraction of that cost? Innovation Exhibits has many custom rental booths available only needing your graphics and logos. Contact us today for details.
modular & portable displays
Innovation Exhibits modular and portable components provide you a flexible design with visual impact at a fraction of the cost of a custom booth. Our pre-designed packages provide a custom look at a lower cost allowing you to manage your brand and overall exhibit budget efficiently.
Let Innovation Exhibits creative sales staff take your exhibit to a higher level. Contact us today!
custom design & fabrication
When you need an exhibit booth, we go beyond great design and construction. Innovation Exhibits offers full-service design and build packages. From the initial planning session with our team of designers work hand in hand with our construction crew, to ensure your vision will come to life. Our in-house print shop will add graphics to complete the look and. Our full-service team will see your display from conception to the trade show floor complete with shipping, set-up, dismantling and storage. Contact us today for details.
P.O.P displays & kiosks
Does your company need point of purchase (P.O.P) displays or kiosks for trade shows or retail stores? Innovation Exhibits will design and build your custom P.O.P displays, kiosks. Ask our team about video options and updated graphic packages.  Contact us today for details
showroom / lobby design & fabrication
Put your best foot forward when your customers enter your lobby or conference room or increase employee moral with an updated breakroom or cafeteria. Innovation Exhibits can design a new first impression entrance or show room tailored fit to your exact needs and desires.
As with our trade show services Innovation Exhibits will manage the project from initial concept, to design and construction, and ultimately to actual final installation.  If you prefer to use your own in-house team of contractors, we can work alongside them to provide designs, custom finishes, and custom fixtures on time and within budget. Contact us today for details.