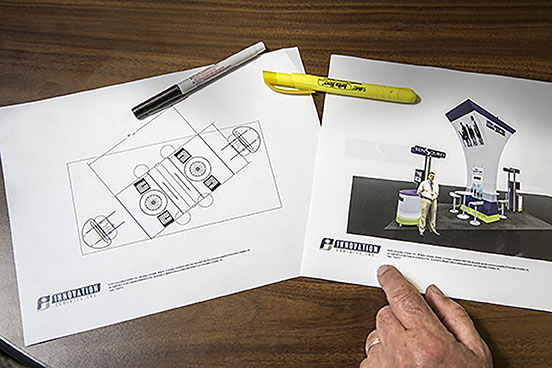 Exhibiting at a trade show is more than just setting up a booth, handing out brochures and sampling the free appetizers. The "Build it and They Will Come" mantra doesn't always work. To get the most out of your experience, you need a solid plan and a branded environment that's striking and engaging for your audience.
At Innovation Exhibits, we put our experience to work for you by guiding you through the process. Foot traffic is everything, and our expert staff will discuss your project with you and help you select the product that meets your goals and fits within your budget. From Day 1, we'll discuss important topics like:
Booth selection
Booth staff training
Rental vs. Purchase
Pre- and post-show marketing
Press releases
In addition to our comprehensive design consultation, we work with you to assess the costs associated with attending each show and help you fill out the registration paperwork. Our years of attending trade shows across the United States give us a strong knowledge of the state-specific regulations for each show, and our close relationships with the venues and local labor groups give us an edge in ensuring your exhibit is assembled efficiently and in accordance with those regulations.